Autumn has arrived-my favorite season,
and with it a myriad of traditions and festivals.
Most are connected to a special food or meal,
and I love celebrating them in turn.
These are the days of taking in the harvest,
honoring the good wills of Nature.
In the States Thanksgiving is celebrated at the the end of November.
In Germany Erntedank is at the beginning of October.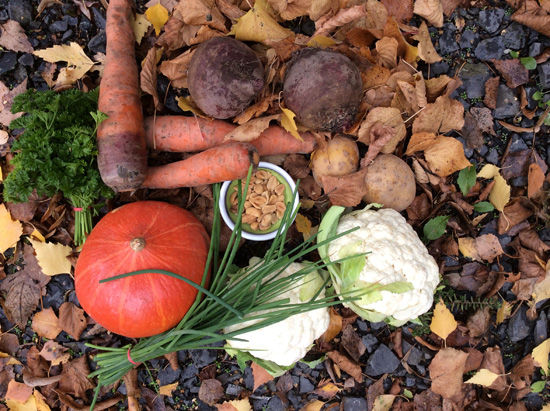 For me that means potatoes in the cellar,
enough wood for our woodburning stove,
an abundance of black tea in the cupboard,
20 liters of Sicilian olive oil, a basket of apples,
a bit of apricot jam, a couple of bottles of Barolo.
Mid November I will bake some Christmas Stollen,
so that they will be ripe in time for the beginning of Advent.
For now I've baked a cornbread. It tastes great on its own, or with butter,
or with grilled pumpkin and potatoes, or grilled chicken.
I like it best on its own still warm from the oven.
This recipe comes from one of my favorite cookbooks.
Certainly it is one of my first and very influential in the way I cook,
the Vegetarian Epicure by Anna Thomas.
I bought a paperback version of it when I moved to England at 23,
and used it thoroughly until all of the pages fell out,
at which point I sadly but respectfully threw it in the bin.
Amazingly enough, you can get it on Kindle, which I now have.
So here is her recipe.
Serves 4 to 6 generously—and that's the way
you have to serve this bread.
1¼ cups unbleached white flour
¾ cup whole-grain corn meal (stone-ground if possible)
4 Tbs. sugar
5 tsp. baking powder
¾ tsp. salt
1 egg
1 cup milk
2 Tbs. melted butter
Stir everything up well. Spread the batter in a buttered 9-inch pie dish
and bake in a preheated 375-degree oven for about 30 to 35 minutes,
or until it is lightly browned around the edges. Serve hot with butter.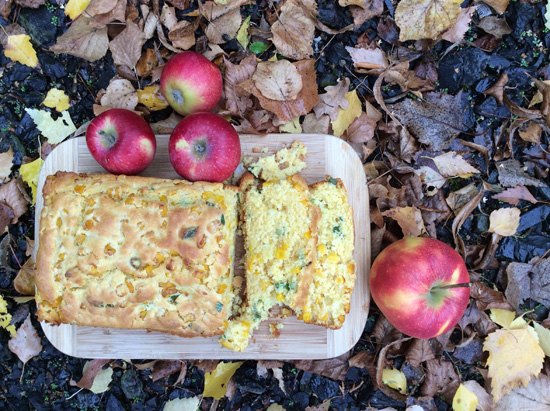 I have added a can of corn kernels, a spring onion, and
a teaspoon tip of hot pepper oil.
In the Summer I can usually get some really hot peppers
which are sliced thin and kept in a little jar of olive oil in the fridge.
Besides Julia Child who I watched on TV after school,
some books that I have read from back to cover more than once are
Italian Food by Elizabeth David
Diet for a Small Planet by Frances Moore Lappé
Cuisine de Jardin (Meals from the Garden) by Ralf Kabelitz.