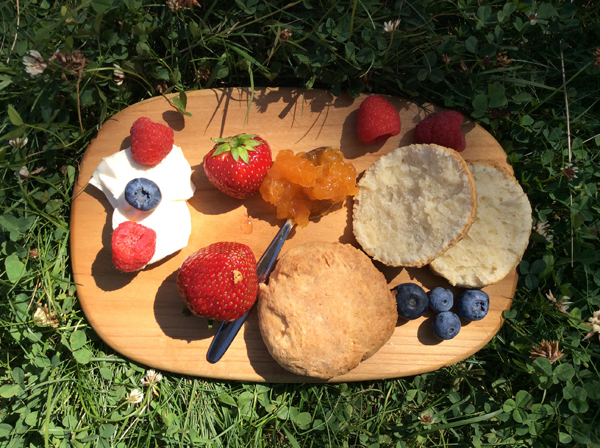 This is my contribution to sweeten up our not so sweet times
with the Donut Krump cake news
I love traveling and seeing how differently other people do things,
comparing and gathering new ideas,
learning about their traditions.
I lived for 5 years in Sussex, England and learned about the right way to drink tea
(all day and with milk),
Bubble and Squeak (fried leftovers),
Flapjacks, Apple Crumble, Cream Tea.
For Flapjacks take a stick of salty butter ( more is better),
oat flakes, sugar to taste, and cinnamon.
Mix with a wooden spoon or rub between your hands,
lightly pat the mixture into a square pan and bake
in a medium oven for 20 minutes or until they just turn brown.
Cut into rectangles while still warm.
When I first came to England in 1974, there were still Cox Orange apple trees all over.
A most wonderful apple, sweet and sour, juicy and fragrant.
Soon after that most of the trees were felled because their fruits
didn't meet the European norms.
Before that absurdity happened, I often enough gathered the fruits that had fallen
under the trees to make Apple Crumble.
Cut the apples into bitesize chunks right into a buttered tin or a pretty ceramic form.
Dot with butter, sugar, cinnamon, nutmeg, cardamon.
Take the Flapjack mixture, add some chopped almonds or hazelnuts
and distribute quickly over the apples
for there is great danger of eating too much of this delectable combination as is.
Bake for 25 minutes.
In the States, when a building or an institution ripens to the age of 25
it merits the title of being historical. How much more so in England
with their Kings and princesses and prehistoric monuments.
After a walk on the Seven Sisters, along the wind blown coast,
we drove by the Long Man of Wilmington,
a mysterious shape outlined into the chalk cliffs.
Across the road a tea garden, with individual garden sheds
among roses and green lawns.
The serving maidens (waitress is far from the right terminology)
came wearing Laura Ashley aprons and trays overflowing
with tea pots, strawberry jam, whipped cream and scones.
My recipe for scones:
Two handfuls of flour, 3 big tablespoons of butter, a pinch of salt,
2 teaspoons of sugar, 2 teaspoons of baking powder.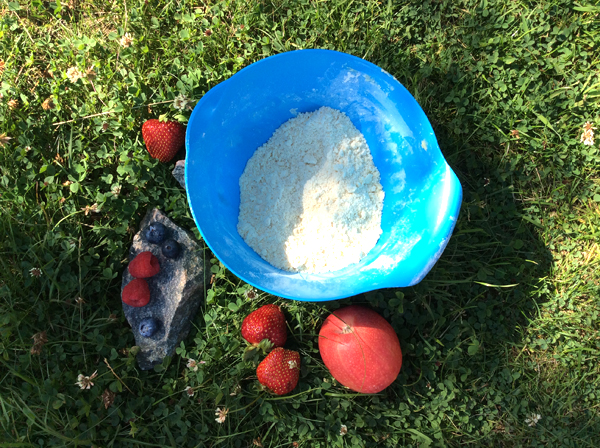 Rub this mixture between yours hands until it looks somewhat like cornmeal.
Add buttermilk to create a coherent, non sticky dough. You can add more flour
if needed. Don't knead it too much.
Roll it out about an inch thick (2-3cm) and cut into rounds.
I use an upturned glass for this.
Again, bake in a medium oven til the crusts get a touch of brown.
It would be too simple to assume that you can sum up the
eccentricities of a culture just through eating scones.
Or assuming I can find out who I am by saying you are what you eat,
or you are where you came from,
or you are what you do or did.
But on the way from here to there and whatever comes thereafter
isn't looking a never-ending intangible adventure.